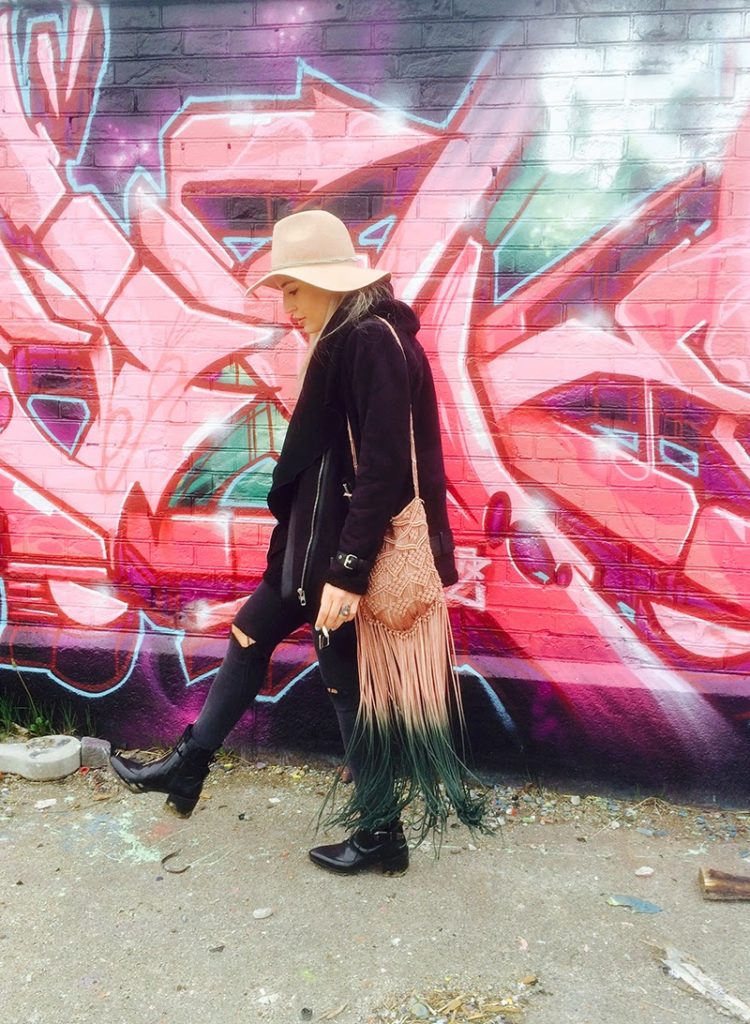 MUNICH STREETSTYLE
Diese Wände!! Sie schreien einfach nach perfekter Foto-Location! Mit dreckigen Matsch-Schuhen und glücklich gefüllten Bäuchen, hüpfen die zwei (wieder vereinten!) Blondies auf die lange Graffiti Mauer zu und haben eine neuen super Foto-Session-Ort gefunden! Aber mal von vorne: Mein allerliebstes Julchen ist endlich wieder da! Drei lange Monate hat sie sich nach Köln zu einem Praktikum verzogen und jetzt ist sie endlich wieder bei mir in München.
"Every Blondie needs a Blondie on her side!"
Am Samstag sind wir dann auch direkt losgezogen: Zum Wannda Circus. Der heißt nicht nur so, er sieht auch wirklich aus wie ein kleiner Zirkus! Bunte Zelte, Stoffe, ein paar Bierbänke, alles bunt mit Stoffen und Lichtergirlanden dekoriert, Pflanzen und noch viel mehr tolle Sachen, die den kleinen Circus Platz wunderschön machen. Ich war mein erstes Mal dort und muss da jetzt unbedingt auch mal abends hin, im Dunkeln sieht der magische Platz bestimmt noch besser aus! Bei uns stand leider der halbe Platz unter Wasser, da es die Tage vorher richtig stark geregnet hatte (deshalb auch mega Matsch-Schuhe). Trotzdem waren wir bester Laune und haben uns ein paar vegane Leckereien gegönnt. Am Samstag war dort veganer Foodbazaar und ich sags euch: So leckere Sachen! Es war richtig schwer sich zu entscheiden, da alles so jummie aussah und so gut gerochen hat! Nach unserer Food-und-Foto-Action sind wir dann noch ein bisschen bummeln gefahren in die City und waren abends auf ein, zwei Drinks und noch mehr Essen in einer Bar. Perfekter Samstag!
These walls!! The perfect location to shoot my outfit of this day! With dirty shoes and filled bellies we jumped along the long graffiti wall. My best blondie Julia is finally back and we had a great saturday together! We went to the "Wannda Circus" which was decorated with awesome and colorful tents, benches, fabrics and garlands. It was my first time at this location and I loved it! A very magical place and I am looking forward to visit it in the night for the next time. On saturday the whole place was under water because it has been raining for days really strong. However, we were in a good mood and had a great time at the vegan food bazaar. At the evening we drove to the city and had some drinks and more food! Perfect saturday!
window.tdAsyncInit = function() { TD.init({ widget: "336150f4bc5b74ba7f519e2366efd5ea", locale: "de_DE" }); }; (function(){ var s = document.createElement("script"),t = document.getElementsByTagName("script")[0]; s.type = "text/javascript";s.async = true;s.src = "//d1kn3e15znl51s.cloudfront.net/js/tlib.min.js"; t.parentNode.insertBefore(s, t); }(document));